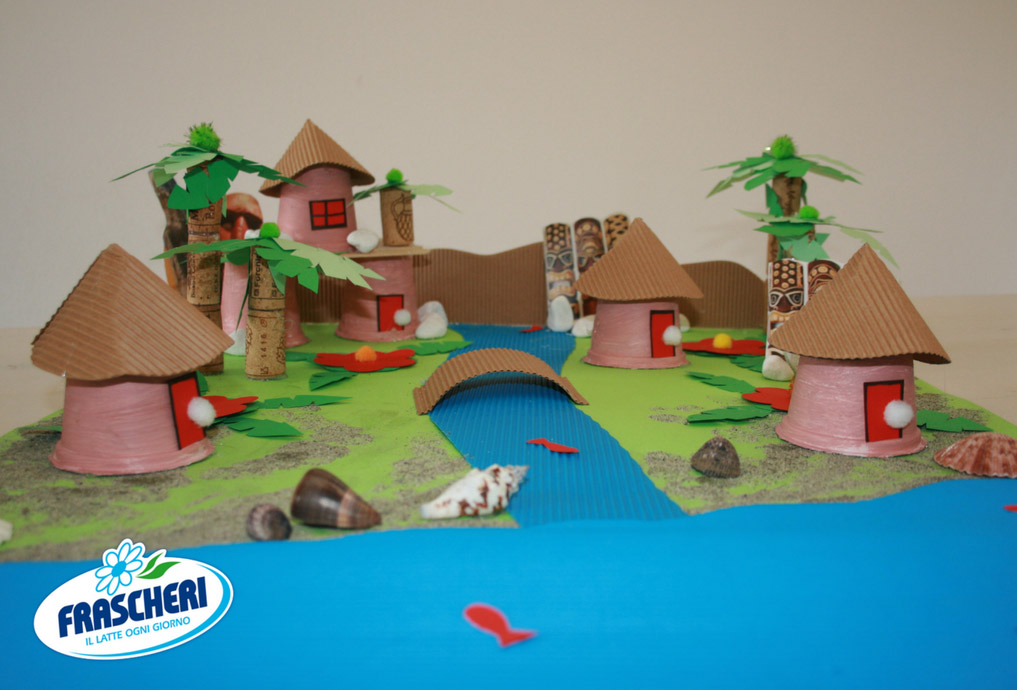 You need:
green paperboard 50 cm x 70 cm / or a part of a cardboard that you can colour green;
blue corrugated cardboard;
2 sheets of red paper;
2 sheets of green paper;
corrugated cardboard (brown);
10 corks;
sand;
4-6 ice cream sticks;
small stones from the beach;
seashells;
hot glue;
all-purpose glue;
6 empty Frascheri yogurt pots;
6 mini cotton balls;
scissors;
acrylic paint or poster paint;
paintbrush
When creating your village, start with painting the yogurt pots using acrylic paint. These will be the base of your small houses.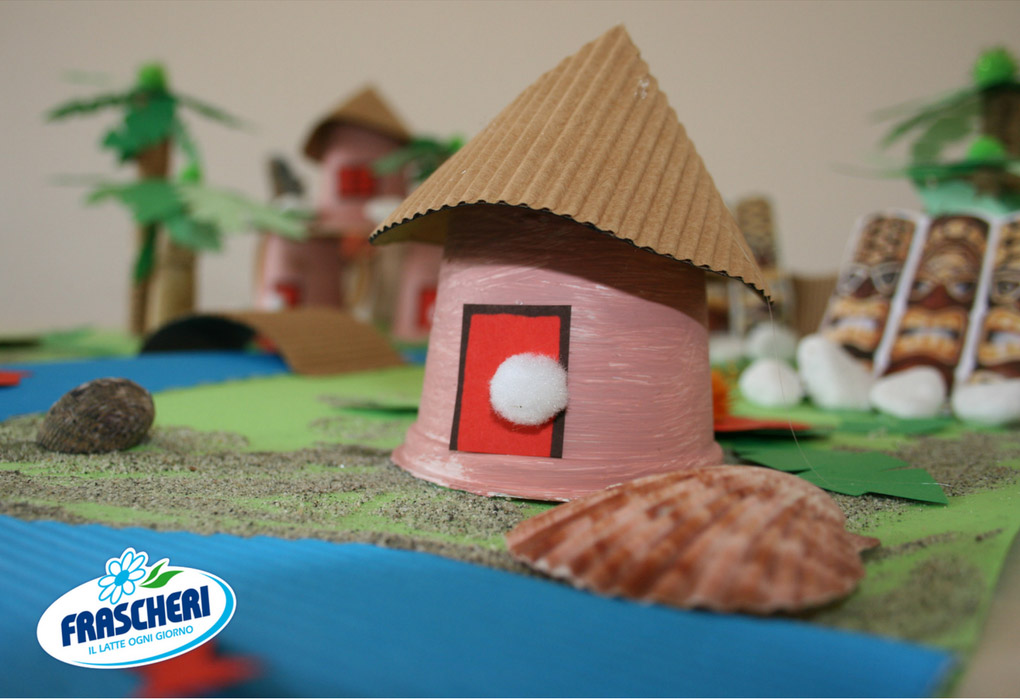 While the pots are drying, take the green and blue corrugated carton. Cut the blue carton into two parts, one like a river and the other like the sea. Glue these two parts of blue carton on the green carton using hot glue. Create a bridge with a piece of brown corrugated cardboard and stick it in place over the river. At this point, use all-purpose glue to create a beach, sprinkling your green carton with sand. Once the glue has dried, blow away the excess of sand.  Fix a piece of brown corrugated cardboard on the opposite side of the sea, this should work as background landscape of your village.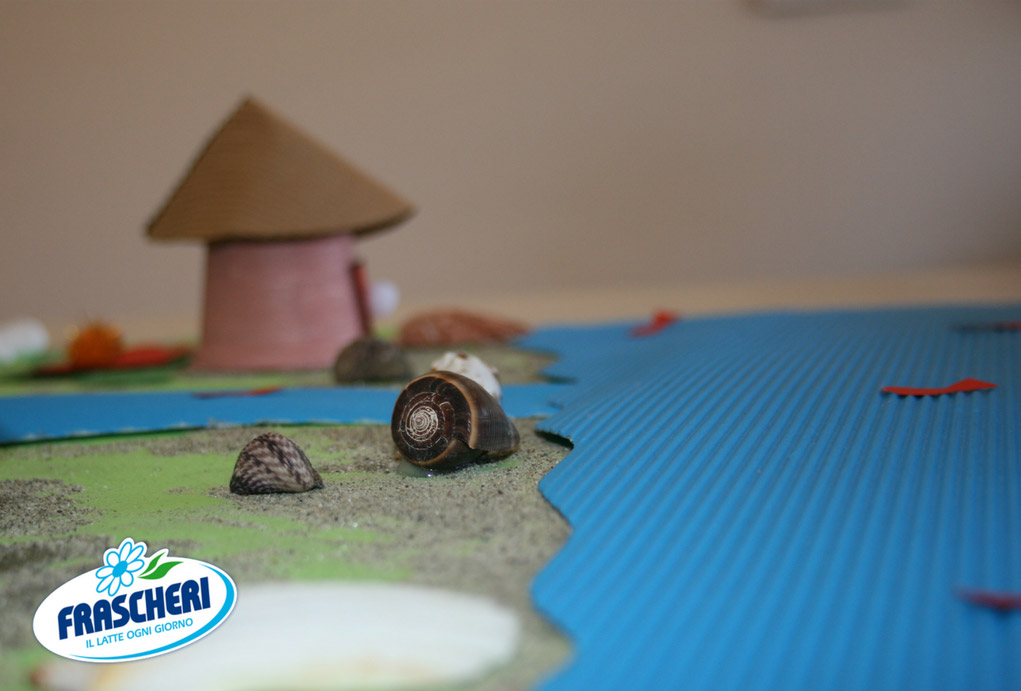 Once your pots are dried, build 4 roofs using the corrugated carton. Here you find shapes and patterns suitable for Frascheri's yogurt pot. We left the carton brown but, if you prefer, feel free to use your fantasy and colour the roofs as you wish. Cut and fix it with hot glue, it should look like a cone when you're done. Now fix the roofs on your 4 yogurt houses but be careful not to use too much glue, you risk to ruin the container with too much glue. Now you can fix the houses on the green carton. To create the village chief's two storey-house you only have to place one pot next to the other and put your ice cream sticks on top of them, use hot glue to fix them. The last step of your two-storey house is to attach another pot on top of the sticks.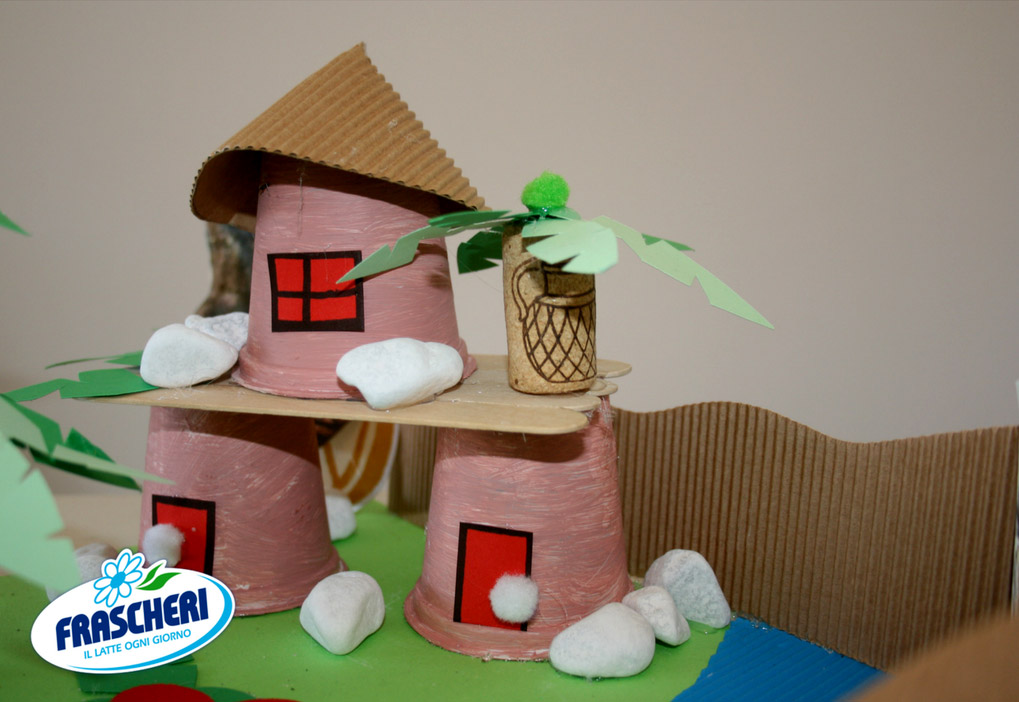 Now, take the red paper and cut out rectangles and use them as windows and doors. To make handles use mini cotton balls (you can easily find them in craft shops). If you don't find mini cotton balls simply use a small part of normal cotton. Use the corks and put them one above the other and fix them with hot glue on the green carton. These will be the base of your palm trees. To create palm leaves, draw leaves on your sheets of green paper. Try to give them an almond-like shape. If you need help with this shape you can use this pattern. Cut out about thirty leaves. Use hot glue to fix the leaves on top of the corks to create your trees. If you have green mini cotton balls you can put one on top of each tree.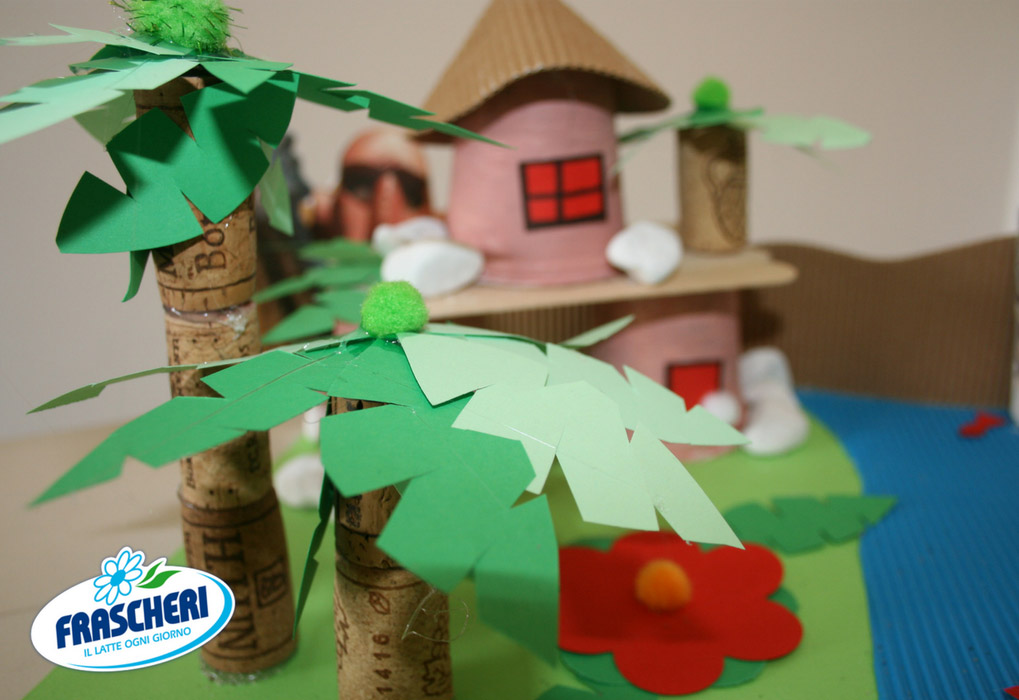 To end it off, take a red paper and cut out some flowers by hand and put green leaves next to them, this will give a nice touch of colour to your Polynesian village. Decorate with seashells and stones. The only thing that is left to do before you can start to play is to draw a picture of yourself or other figures that you like and make them move in to your village.