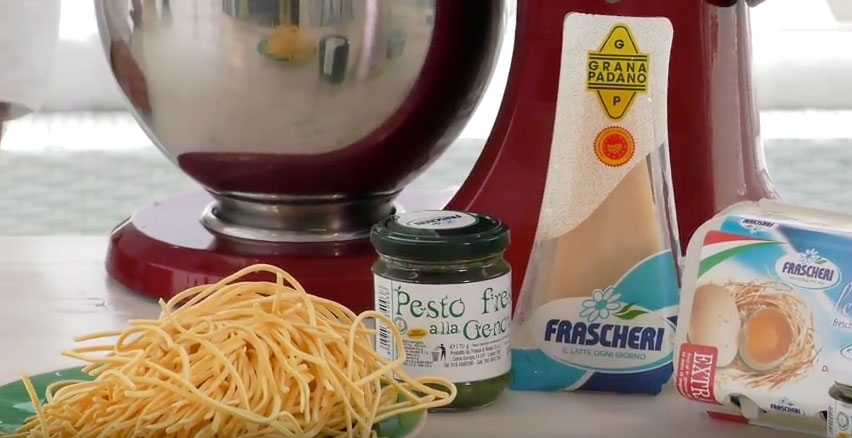 Ingredients:
400 gr flour;
4 Frascheri eggs;
a pinch of salt;
1 jar with Genoa pesto Frasca & Nassa by Frascheri.
Preparazione:
Put the flour on your table or in a bowl, add salt and create a crater in the middle for the eggs. Beat the eggs with a fork in a cup and then add them in the flour crater and start to knead. When the dough is smooth make a ball, and leave it to rest for about 30 minutes. Roll out the dough very thinly and add flour so it won't stick, then fold it and cut with a knife into stripes.
Boil salted water and then cook your fresh pasta. Drain the pasta (but not too well, keep it wet or leave a little bit of boiling water and add to the pasta when you add the sauce) and mix it with the Genoa pesto. Decorate with fresh basil leaves, some Grana Padano flakes and a few toasted pine nuts on top.
Keyword video:
– Put flour, salt and eggs in a bowl and knead;
– Roll out the dough very thinly, cut it with a knife into taglierini stripes;
– Mix with the pesto and decorate your plate with basil, grana Padano and toasted pine nuts.
.